I recently came across a recipe by Chocolate Covered Kate for Mint-Chocolate Fudgsicles with a healthy twist and had to try it for myself.
I should note that I have been making yogurt popsicles since I was young. My parents were fairly health conscious and refused to buy us the regular (sugary) versions. My brother and I would regularly freeze different flavours of yogurt to make our own summertime treats. Therefore I can promise you that ANY type of yogurt that is frozen on a popsicle stick is automatically delicious!
That said, I found this recipe delicious and very easy to prepare. I was able to mix everything in mini smoothie blender so it created almost no dirty dishes as well. My family is already placing requests for another batch!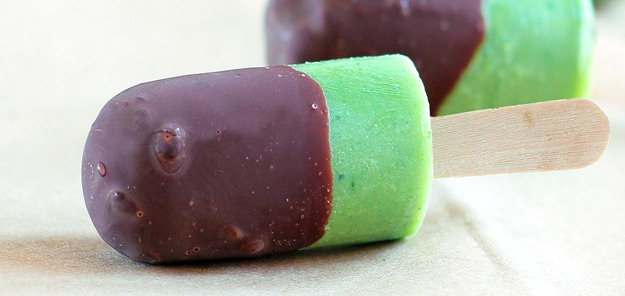 The recipe, taken directly from Chocolate Covered Kate, is as follows...
-
1 cup plain or vanilla yogurt of choice, or 1 cup full-fat
canned
coconut milk (I used Silk soy yogurt, and Wholesoy works too. I'm sure many other brands work, but I've only tried these pops with the two brands mentioned.)
-
1/16 to 1/4 tsp pure peppermint extract (or more), depending on desired mint strength
-
1/4 tsp pure vanilla extract
-
1-3 stevia packets or 1-3 tbsp sugar or liquid sweetener of choice (Sweetener amount will depend on your choice of yogurt, as well as your personal taste preferences. Remember that the pops will be less sweet once frozen.)
-
optional: packed 1/2 cup spinach (20g), or food coloring as desired (The pictured pops have spinach, not food coloring. You cannot taste it at all!)
-
optional: handful of chocolate chips or mini chips
If using spinach, blend all ingredients until completely smooth. (If not using spinach, combine all ingredients in a large bowl or pyrex measuring cup.) Pour into popsicle molds, or paper cups with spoons as the sticks. Freeze completely, then pop out and enjoy.
Things to Note
1. I am never a fan of adding salt to my recipes and omitted it went making my version. It still tasted great!
2. If using full spinach bunches, as I did, cut or break the steams off before adding them to your blender. The steams are often the most difficult to blend evenly and can cause lumps.
Yum!
-J